THE STORY OF BEAR
Bear came to be with me only a few months ago. After a run of 'bad luck' with horses my husband and I finally decided to bite the bullet and spend a little more than we could actually afford in order to get me back out in the competition ring after retiring my old mare a few years ago. Bear has been a level 1 Show-hack and has had some great success over the years. He is well educated and a real show stopper. He was all my dreams come true and exactly what I had been searching for in a horse for quite some time. After some initial teething problems with settling in to his new home, Bear and I were beginning to build a nice partnership and had our sights set on some up coming shows.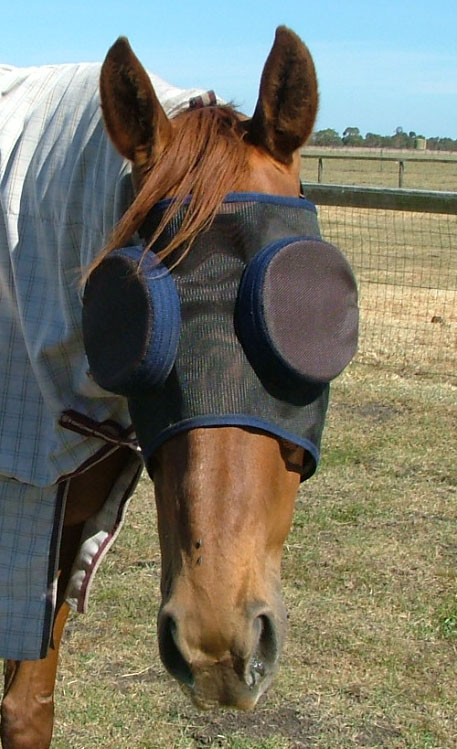 Then I got 'the phone call'. My husband had the day off work and was feeding up in the morning when he noticed Bear had a swollen eye. Doing the right thing by not panicking he brought Bear out and bathed the eye in some salt water. It didn't look too bad at first. There were no foreign objects and it was only slightly swollen, so we decided that he was ok to go back out into the field and be reassessed later when I got home from work. By the time I arrived home most of the swelling had come down and I was preparing for our afternoon ride. Bear didn't seem bothered by the minimal swelling nor did he seem like he was in pain. Suddenly the sun just hit the eye on the right angle and I noticed something in the middle of his cornea. A HOLE !!!!!!!!!!!!!!!!!!!!!!!!!!!!!!!!!!!!!!!!!!!!
Being a Vet Nurse I am fully aware of how quickly the smallest eye injury can turn nasty let alone something like this. So the Vet was called IMMEDIATELY! The most likely diagnosis was that Bear had put his head down to eat his hay and a spike of hay had stabbed him fair and square in the middle of his cornea. It left quite a deep puncture mark with a small split above it. After copious amounts of atropine and extensive staining of the eye we found a large ulceration of the cornea under the puncture site. The plan? Hit him hard with Equibutazone, some IV antibiotics and into the stable with complete darkness until further notice. If the eye doesn't get infected we should be ok! Well, this is where my research began.
Bear is quite a well-behaved horse, but being stabled and not seeing any daylight for several weeks is enough to send the most sensible of horses just a little loopy.
This is when I found the Guardian Mask. I phone Debbie that night and had the mask in the mail the following day. Not only did the mask cut Bear's stabled time down by more than a week but it also gave me some reassurance that no foreign objects, dust or further injury could affect the eye while it was healing. Bear was not worried by wearing the mask in the slightest. It seems quite comfortable and sturdy and never moves or rubs while being worn. So far I have found the mask to be of sturdy material and great design with loads of adjustment.
Bear's eye has now healed and he is back out at pasture but still wears his mask on sunny days. I am not sure how he would have coped with much more stabling time and the Guardian mask played a key role in cutting this time down to the absolute minimum. We are back on track now with our training and hopefully will be out and about very soon. I was so incredibly frightened that I would loose my dream horse to such a common injury. Bear was lucky that we got onto the Vet within a very short period of time of the injury and he will make a complete recovery. But the Guardian mask was a huge part of his treatment. It certainly gave me peace of mind as far as Uveitis is concerned and helped incredibly while the eye was still under the effect of the atropine. Ruling out yet another foreign object re-injuring an already damaged eye was something else that was very comforting.
I just want to thank Debbie and Guardian masks from the bottom of my heart for their prompt service, friendly follow up phone calls and their FANTASTIC product.
Kind Regards
Simone Coleman and Celebrity (Bear)
---
Thank you Simone, for sharing your story. Although it might sound unusual, this type of injury can occur! Bear is without a doubt a fine and beautiful horse and we're so pleased to know Guardian Mask is there to help. Also a special thank you, to Debbie Webber as well for all of her hard work in spreading the word and helping with distribution in Australia!
Guardian Mask