Equine eye conditions can come in many forms, but the tell tale signs are almost always visible, even when the eyes look completely normal but your horse is displaying what seems to be behavioral problems. No matter what the condition is, we try to address the most common conditions with articles compiled over time.

Information & Articles For Common Eye Conditions
Before reading these articles provided as a courtesy, please understand that the Guardian Mask Company is not a veterinary practice nor do we employ a Veterinarian in-house. We have placed these articles here for horse owners as a courtesy. Always seek the advice of your veterinarian before trying any products or medications.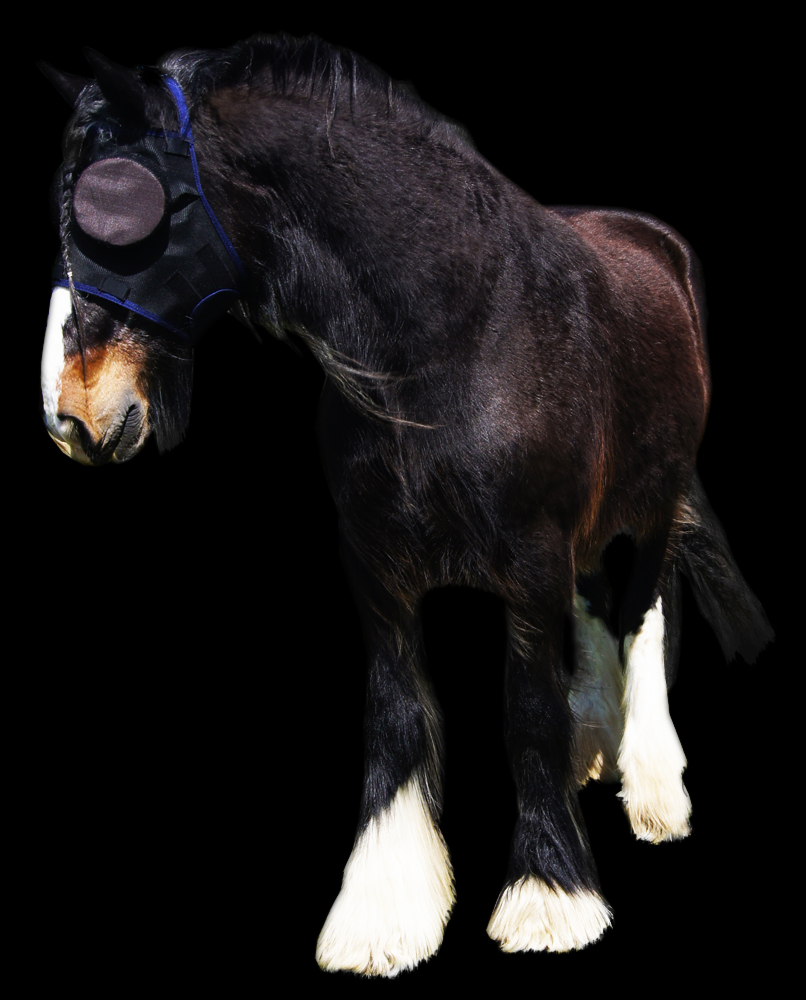 If you are interested in contributing an article, or information for others to benefit from, feel free to submit your information to GuardianMaskRep@aol.com for review. We appreciate any and all contributions and invite customers, horse owners, trainers, universities and veterinarians, to participate. If you are going to participate, please note that we can only accept data, papers or information that is written by you, and you are willing to share through our website.
We still need articles on the following subjects:
Glaucoma
Eye Cancer
Eye Disease and Susceptibility of Specific Horse Breeds
Using Feed Supplements as part of Treatment for Eye Health
"Samuel" One of the many rescues at HorseWorld Trust in the UK.
Samuel is wearing the Standard Guardian Mask with 95% Sunshades
Photo Courtesy of Emily Mitchard
Click on the horse to see the original photo
"Louis" (Below) Another of the many rescues at
HorseWorld Trust in the UK.
Louis is wearing the Standard Guardian Mask with 95% Sunshades
Photo Courtesy of Emily Mitchard