Lorraine & her horse "Brandy - February 2001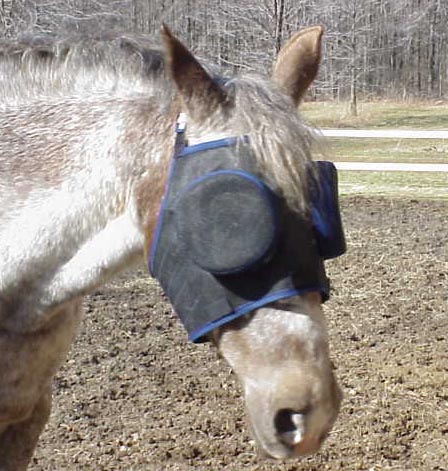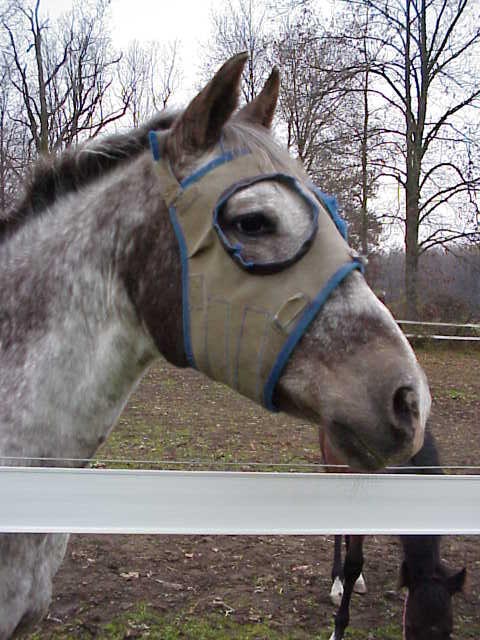 Hi, I want to tell you how wonderful and helpful your Guardian Mask has been. My Appy, now 26 years old was diagnosed with recurrent uveitis 3 years ago. It flared up in one of her eyes very badly. My vet basically told me it was "moon blindness" and she could not be put out in the pasture during the day. To me that was not a good option, of course I didn't want to see her in pain but what kind of a life is it for her to be stuck in the stall all day!
My vet recommended to try a fly mask to cut the sun rays a little and that may help. I starting using the standard fly masks you can purchase at any tack shop. I was buying a new one every two months! They would rip, she'd rub holes in them, they'd fall off, they would lay right across her eye and irritate it even worse and her uveitis kept reoccurring! When she went out in the pasture all she did was stand against the barn with her eye away from the sunlight. It was awful.

Then I came across the Guardian Fly Mask. It is wonderful! I started to use this mask and I could see a dramatic improvement in her. She no longer stands by the barn, the mask never falls off, I've been using the same Guardian mask for over a year and a half now and guess what - she hasn't had a flare up of the uveitis infections since! Thank you for making my Appy's life better!

The Guardian mask is perfect - heavy duty hook and loop keeps it secure, even when she's rolling in the mud, the mask washes easily, the eye piece is kept away from her eye so it doesn't rub it, plus the best thing is I don't have to keep her good eye covered - the eye piece just pulls right off! So when its winter and there isn't any flies I just keep the good eye uncovered! What a brilliant design in eye protection! Her picture above shows her peaking out with her good eye!

I just ordered another Guardian mask for her. Not that the old one is worn out, but I wanted a new color. I use it as her halter, its rugged enough that I just grab it from the bottom and lead her that way and lets face it I would have spent that for a good halter.

My Appy is pretty much blind in her one eye, but she's adapted just fine. I can tell she's not in pain anymore and there's no infections. I truly believe none of the medicines I used helped, what made the biggest difference was the Guardian Mask!
THANK YOU!
Lorraine - Hiram OH
---
Thank you for sharing your story and pictures Lorraine. It is true, there is no reason a horse needs to be stalled all day, exercise and grazing are a natural necessary thing for a horse. We are pleased to hear your positive progress!
Guardian Mask