Navigation Menu
---
We strongly recommended reading each and every page of the compiled information on our website.
The information we have provided will help you understand your horses needs as well as understand our products.
Our goal is to help save horses lives.
---
This product is proudly made in the USA
---

---
Lauren & her horses "Nova" and "Jane" - 05-25-2007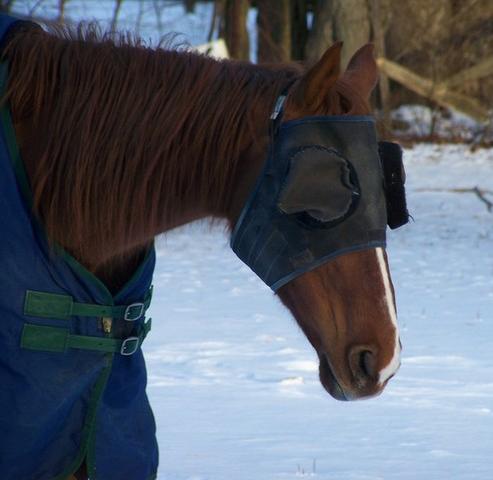 My name is Lauren Berrouard, and I am 16 years old. I have had two blind horses, and one partially blind pony since I started at my current barn 8 years ago. I still have one blind lady named Jane, who is 49 years old.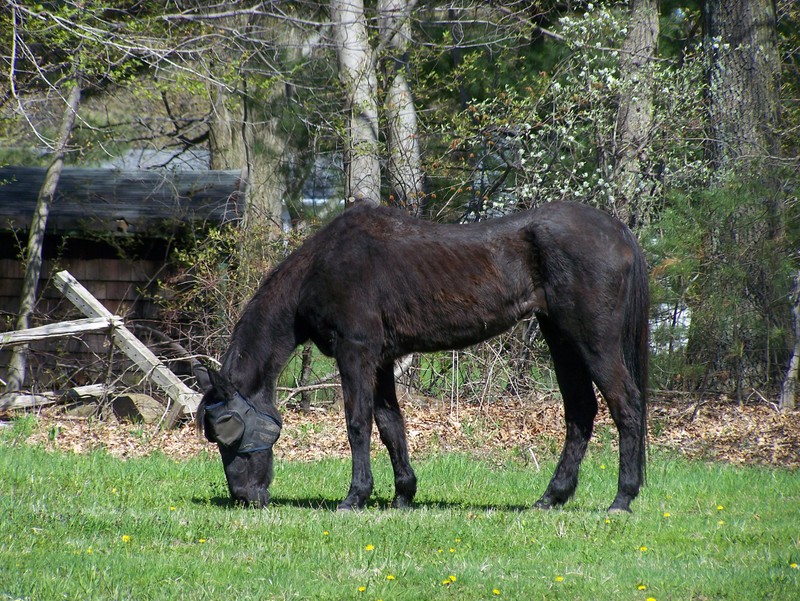 For about a year, we had an 11 year old OTTB named Nova. He was a sweet boy, and a great match with the woman who owned him with my father. Only a short time after we received ownership of him, I received a text message from her, saying "I didn't ride Nova today, something's up with his eye". Ever since Jane went blind, I had joined a Blind Horse group and researched eye diseases. I went to the farm, and Nova was exhibiting all of the common signs of Equine Recurrent Uveitis.
We had the vet out not long after noticing the change in Nova. The woman who also owned Nova was skeptical about the mask, so she asked the vet his opinion. He didn't think it would hurt, but didn't think it would help either. I could not convince her to read any more about the mask or even use it. I had graciously been given the mask for free (with the 95% sunshades) for Jane before we knew that Nova had Uveitis, as I could not afford one myself.
I did, however, get her to agree to putting it on Nova when there was snow on the ground because of the reflection it produced. Sadly, Nova never got better. Because of some other extreme symptoms, Nova had to be euthanized.
I am happy to say that the Guardian Mask gave Nova temporary comfort for the few wonderful days that he wore it. He seems so much less miserable. With the mask, he was not able to tear up his face scratching it against anything he could. It kept the sun out of his sensitive and painful eyes, and let him be a horse.
For our thanks, I send you a couple pictures of our wonderful boy.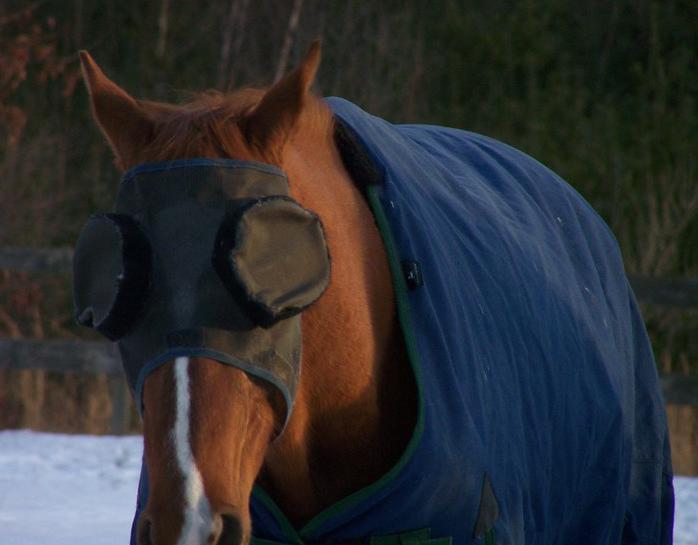 Thank you for EVERYthing that you guys do for these wonderful Blindies!!
---
Thank you Lauren, for such a wonderful account of your dedication and love of these special horses. It is folks like yourself that makes every bit of making these masks so worth it.
Guardian Mask