Krista & her horse "Romeo" - 06-01-2002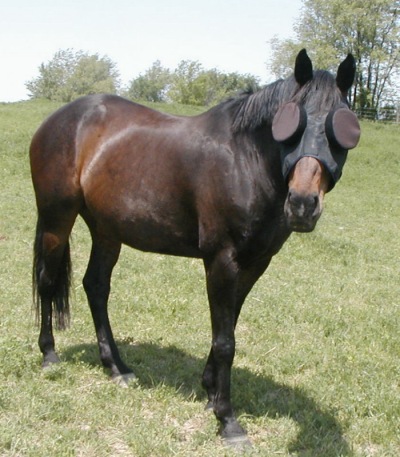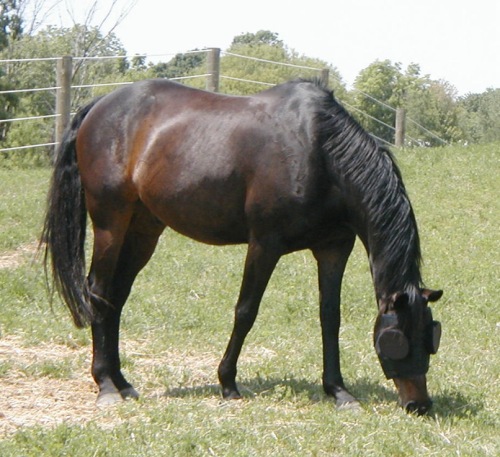 06-01-02 It worked!
Hi Sid -
I just wanted to say thank you, thank you, thank you! Today as the mail came I noticed a package and I knew it was the Mask. I couldn't wait to try it on Romeo! I knew his days of head shaking and pain were over. I rushed out to the barn and brought him inside. Since the mares and geldings switched pastures, he doesn't have trees to hide in anymore. I found him standing in the tall grass, occasionally shaking and jerking his head.
Bringing him in, he stopped a few times, and his head shaking got worse. Once inside he stopped - this was an every day occurrence. He had been suffering from this for about 3 years now, and Cyproheptadine was clearly not working. "That's okay" I thought as I reached for the Mask. "This WILL work!" I put it on him outside and he was a little worried because everything was darker. I patted him and comforted him, then decided we should go for a walk to the upper barn. Usually this walk, from the lower to the upper barn (which has the indoor arena) would cause him to start shaking his head about half way there. We made it there and back with no shaking!
We walked around a good ten minutes and still no shaking - he was more concerned with the flies at this point. So I decided to let him go back outside to his buddies in the pasture and get used to the Mask out there. I think he was still a little cautious because he didn't rush out to meet his friends, but just kind of meandered around. Finally I got him to trot a little way up a hill. He stopped on the top of it, looking out at all of his friends.
Then with a squeal he galloped out to meet them, head held high, no shaking during the long run to the very back of the pasture or after he had stopped running! 10 minutes later as I was leaving, I took one last look at him. He was grazing in the shorter grass, not shaking his head, looking very very comfortable.
We haven't ridden in the Mask yet, but I know it won't be any problem. It definitely was not a surprise that the Mask would work, I knew it would! But it was extremely comforting to know that it had brought that much immediate relief for Romeo. I have enclosed two pictures of him with his new Mask. He may look silly, but he is so much more comfortable and happy already - and it's only the first day!
Thank you so much for your wonderful service and for the product that has already helped my horse to have a happier, more comfortable life. I can not thank you enough!

Krista Bennick and Peaceful Envoy (aka Romeo)
Grand Ledge, Michigan
---
What exciting news! To have the results show up immediately on a headshaking horse is amazing! Some times it takes a period of adjustment as well as time for the Guardian Mask to begin working on Headshakers, it varies so much with each horse, but to have had results so quickly is just again, simply amazing. Thank you very much for sharing your update, we look forward to hearing more!
Guardian Mask