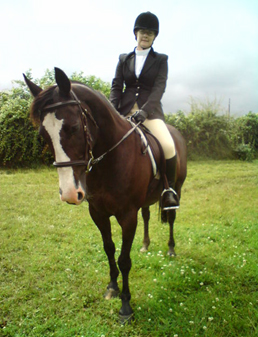 Katrina Philp & Sirus
I am writing to tell you the story of my horse & his condition & the success of the mask.
My horse is 21 years young & I have owned him since he was 18 months old, in October 2012 I arrived at my stables & noticed he was shaking his head around almost like he was getting bothered by flies. I knew this was out of character as it was cold weather & he had never behaved this way in all the years I had owned him.
I really didn't pay much attention to it as after 10 minutes he seemed to stop. The following day when I arrived he was doing it again so I decided to monitor him for a few days before consulting my vet. He carried on head shaking for the few days I was monitoring him so I then decided my vet needed to see him.
My vet done a through examination on him, checking his eyes, ears, nose, neck, teeth & everything else to eliminate if there was any pain or foreign bodies anywhere but there was nothing. He did notice that he had a couple of sharp teeth & decided to give them a rasp to see if that was causing the problem. It did help for a couple of days but then it all flared up again. I continued to monitor him for a few more days & even videoed him so my vet could see exactly what he was doing when he had his episodes as the condition was getting worse. The symptoms he was now showing was head shaking, but he was now running around the field doing it, rubbing his nose on his fore leg & across the ground & he would stand still for about 5 minutes & just stare into space. Again I called my vet & sent him the DVD so he could consult other specialists as the condition was baffling him. We decided to also book him into the equine hospital for x-rays to eliminate any foreign bodies that may have got trapped in an area we could not see or reach & to make sure he had no bone damage, also he had a full blood test completed.
All the tests came back negative & both vets agreed the only symptom that showed all these characteristics was Trigeminal Neuralgia, they decided to treat it with a course of acupuncture over 3 sessions, this didn't work so we then placed him on Periactin tablets which he had to have 30 tablets twice a day, these tablets contained an antihistamine & sedative.
During the time of him having this treatment I did a lot of research on the internet to understand the condition more, to be honest the long term diagnosis was not good as most horses with the condition were put to sleep, this was not an option for me as other than the head shaking he was eating well & his body condition was fantastic. I then came across a website in America that had designed these masks to help horses with eye injuries, uveitis & Trigeminal Neuralgia, www.guardianmask.com
It was on this website that I found a customer testimonial from a lady in the UK who had a horse with the same illness as my horse. I decided to order a mask as I was willing to try anything to help his condition & make him have a more comfortable life. The mask arrived 4 weeks later & I started to use it straight away, it is an odd looking mask but it has the 95% UV shades which would help him cope with the brighter sunny days.
I now have this mask that he wears 24 hours a day & also he has adjusted to been ridden in it, I also have the nose net attachment which also give 95% coverage from the UV rays as the nerves run all the way down the nose it has given him nearly 100% relief from the elements. My next step was to research ways of getting him off the tablets as I knew once my insurance would run out there was no way I would be able to afford keeping him on them, it worked out to nearly £1,700 per month, I was then told about Global Herbs products & I decided to call & speak with Stephen Ashdown of Global Herbs to discuss my horse's illness & if he could suggest anything to help get him off these tablets but keep him comfortable.
After a lengthy conversation of going through what treatment he had received & the medication diagnosed & the not knowing what caused the illness & what was the trigger for the ticks he was getting we placed him on the following supplements:-
Alpha Bute Super - Old Age - Globalvite - Pre Bioherb
I have now been using these products since May 2013 & whilst it has taken a couple of months to see the real results my horse has had no episodes for the last 7 weeks, even in all this hot weather he has been fine & only once did he have a slight tick but that was when the temperature reached 33, I have not used the tablets for the last 3 months & he seems to be coping well just having these supplements, this is a great relief to me as I can afford to keep him on these once my insurance stops for this condition.
I just make sure that his face is kept covered in all weathers.
I hope my story will give horse owners who horses have the same illness that there is hope & it does not mean the end of their faithful friend. It does take time as each horse is different so like mine the results were not immediate but I persevered. I have attached a picture of him before his condition.
Thank you Guardian Mask & Global Herbs as this has been a life saver for my horse & given me hopefully many more years together.
---
Thank you Katrina for sharing your experience. We really appreciate the extra information discovered with using the supplements as well, many horse owners ask about this and we hope your testimonial will help them as well. Thank you also for the pictures, you have a wonderful friend there, we are thrilled that you found us and the mask is helping Sirus!
Guardian Mask
---
Update June 18 2014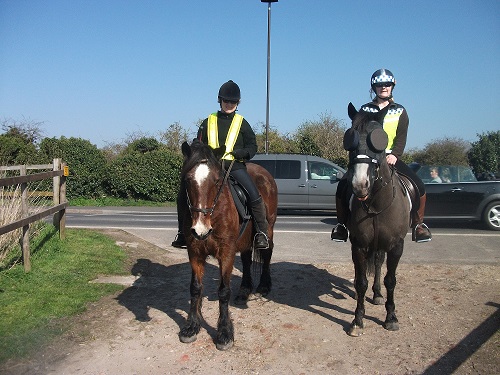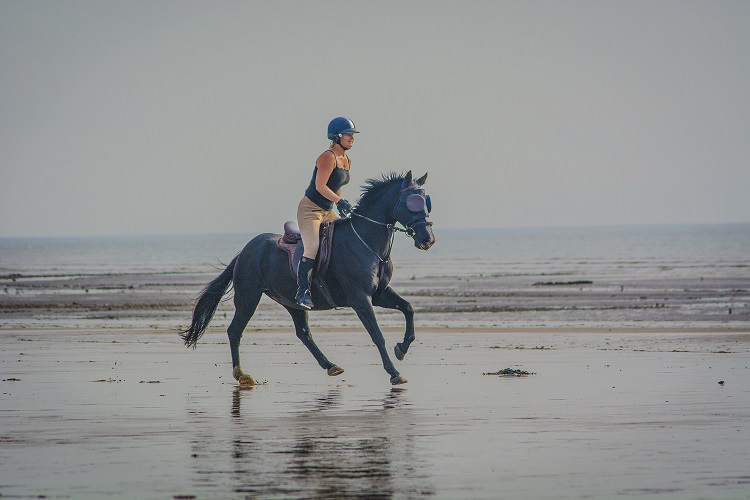 Hi Guardian Mask

Thought I would give an update on Sirus, he is now 22 years young & we have his condition fully under control with (touch wood) no sign of his condition for the last 6 months. He is doing so well in himself, you wouldn't think there is nothing wrong with him now, he also behaves like a 3 year old when riding & now & again will try & have a little canter off with me.

I have attached a rare picture of him without his mask as when I freshen up his face he likes to have a quick roll before I put the clean one back on, this shows what great condition he is in now he has no stress & worry of headaches & also one of us kitted out in our riding gear, notice the cheeky tongue pose which is normal for him. The funniest part of when we ride out is that people actually ask me if he is blind lol.

I am back to competing now in show jumping & plan to do cross country again this winter

Thank you once again for been my life saver
Katrina
---
What a beautiful update, he just looks amazing! Thank you very much for the photos and letting us know that Sirus is going strong! We are just thrilled at how great he looks with, and without his Guardian Mask. Congratulations on getting on with competing again too, that is fabulous!

Thank you Katrina, we are extremely happy for you and Sirus!
Guardian Mask