Navigation Menu
---
We strongly recommended reading each and every page of the compiled information on our website.
The information we have provided will help you understand your horses needs as well as understand our products.
Our goal is to help save horses lives.
---
This product is proudly made in the USA
---

---
Kari & Colin - 12-21-15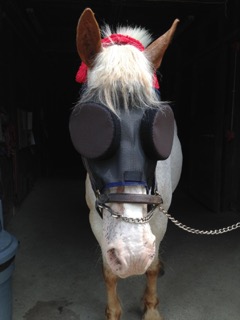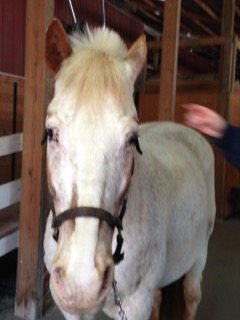 Colin is an Appy/Belgian cross who works as a therapeutic horse giving rides and lessons to disabled adults and children. He came to this non-profit once he lost vision in one of his eyes, but he doesn't let that stop him from being a good boy in his job. As a long-term volunteer at his barn, I have come to be "his person" and spoil him with all he deserves. He is now 21 yr old and suffers from uveitis. About one year ago, he had a very bad flare-up — despite wearing fly masks daily. We decided to find something specifically for horses with this condition and found Guardian mask. Since then, he has not suffered any flare-ups like that horrible one. We are purchasing him a new one ...
Kari
---
Hi Kari,
Thank you so much for sharing with us! Colin is such a special boy! He is an amazing horse that has a wonderful job. The Bridge Center is a fantastic place, and we do hope that the mask continues to do a fine job as well. Feel free to update us at any time, we always look forward to hearing from our special horses!
Guardian Mask