Jeri & her horse "Amerigo" - 07-20-2000 + Update 10-02-2000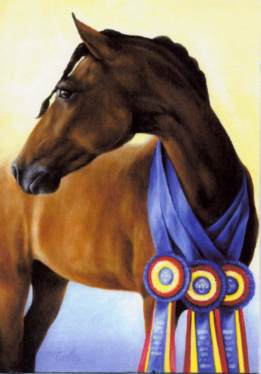 Dear Sid,
Amerigo, my 5 yr. old Paso Fino gelding was diagnosed with photic head shaking syndrome, on May 1st. The weeks leading up to that time were heart breaking. I watched as my happy go lucky horse, turned frantic and anxious. At the height of his misery he shook day and night non stop.
Prior to our appointment at Ohio State University Hospital, I searched for answers. Our Vet was unaware of this malady. His examination found no injury, no disease, no cause for this shaking. I was fortunate to find the Guardian Mask website, which was my first clue!
Sid, you were kind enough to return my desperate call, and told me of the horses with this problem and how the Mask had solved or given some percentage of relief to them. The second I placed the Mask on Amerigo, his relief was evident. He wore the Mask continuously and improved daily. Amerigo had only slight symptoms by the time we arrived at OSU.
The medication prescribed, Cyproheptadine is not approved by the AHSA rules. Consequently we are currently competing successfully without medication through the duration of the show. Amerigo wears his Guardian Mask daily, it is over three months old and shows no wear at all!
Thank you so much!
Jeri L. Tate
Ohio
---
UPDATE 10-2-2000
Dear Sid, Thank you for your continued concern and support for Amerigo's illness. We have just returned from our successful National Paso Fino competition. We were fortunate enough to receive many ribbons, including a 4th place Grand National Performance Champion.
He wore his Guardian Mask during daylight, and was medicated with Cyproheptadine only 4-5 times out of the 8 day show. The AHSA rules state Cyproheptadine may ONLY be given up to 24 hrs. prior to his class. He was entered in 8 classes, many of them in one day (very stressful for him.)
Thank you for the Guardian Mask!
Sincerely,
Jeri Tate
---
Thank you Jeri for sharing and giving us an update as well, we are pleased to hear you are doing well with Amerigo and congratulations on your ribbons!
Guardian Mask