Navigation Menu
---
We strongly recommended reading each and every page of the compiled information on our website.
The information we have provided will help you understand your horses needs as well as understand our products.
Our goal is to help save horses lives.
---
This product is proudly made in the USA
---

---
Jenny and her horses "Jeb" and "Code" - 04-25-16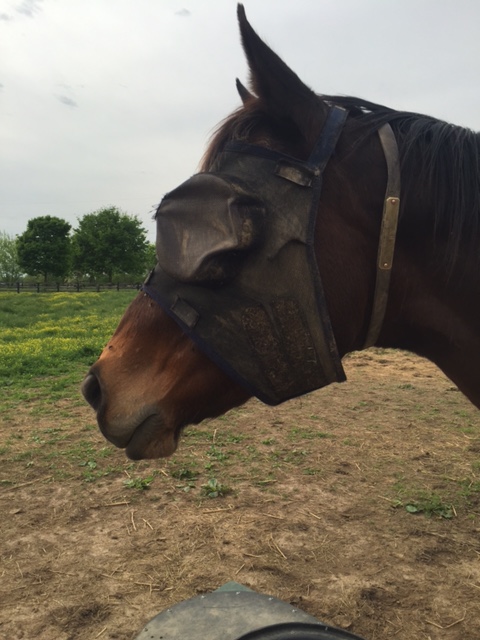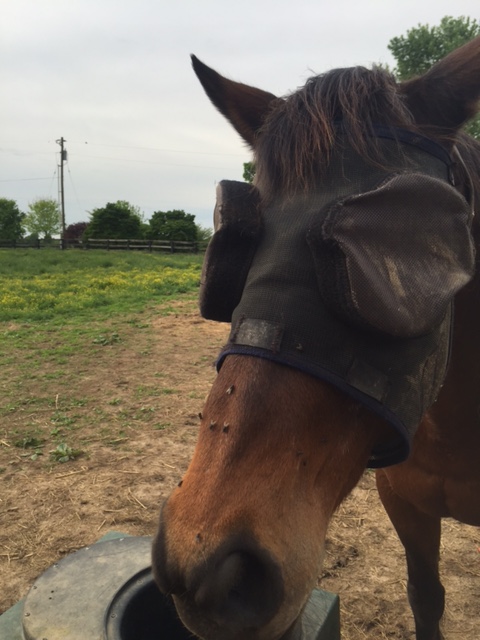 Jeb
To David and Jeanine,

This is Jenny in Versailles, KY. I'm writing to thank you so much for the prompt delivery of the nose guard, and to my great and thankful surprise, another fly mask. I've put it on my rescue mare that I told David about, "Lost The Code", or "Code" . It has further decreased the running of her eyes, and she seems to appreciate the greater UV protection in the daylight hours.

Jeb suffers from violent headshaking. He's the reason I researched and found the mask. Code, my rescue mare, suffers from runny/crusty eyes, which have greatly improved from wearing the regular 95% uv blocking mask (without the separate eye covers). Jeb's quality of life had deteriorated to the point that euthanasia was being considered. His headshaking was both vertical and horizontal, and so violent that it was dangerous to stand next to him.
I purchased the mask in a last ditch effort to try to relieve his pain and return as much quality as possible to his life. Within 15 days of wearing the mask, he experienced an over 95% reduction in his headshaking symptoms.

I'd love to make it so other head shaker sufferers see that that is what Jeb has received relief from, if that is still possible on the website/Facebook. There's nothing worse than seeing your horse in such pain, and thinking there's nothing you can do. When I found the masks, it was a Godsend!

I also need to pass along that I've shown the mask to three different vets, none of which knew such a thing existed, or had given much thought to the connection between light sensitivity and head shaking. They are all amazed, and I'm amazed they'd never heard/thought of this. And my equine communicator, Latifa Meena, was stunned in the difference in Jeb from two weeks before the mask, to two weeks after wearing the mask. She said he no longer wanted to die, and that he felt like a different horse. She is now passing along the website to several of her clients around the globe, all of whom have horses with various eye/head pressures. So again, from the bottom of mine and Jeb's and Lost The Code's hearts, thank you thank you thank you!!!

Jenny

---
Hi Jenny
We are so happy that the mask is helping your horses and Jeb, is really giving it a good workout! Thank you so much for the great update as well as the ongoing support. You've really gone out on a limb to help spread the word and that means so much to us!

Do also feel free to update us again any time in the future, these testimonials do indeed help others.
Guardian Mask