Navigation Menu
---
We strongly recommended reading each and every page of the compiled information on our website.
The information we have provided will help you understand your horses needs as well as understand our products.
Our goal is to help save horses lives.
---
This product is proudly made in the USA
---

---
Eve & her horse "Buttons" - 07-08-2011 + Update 07-10-2011 + Update 03-13-2014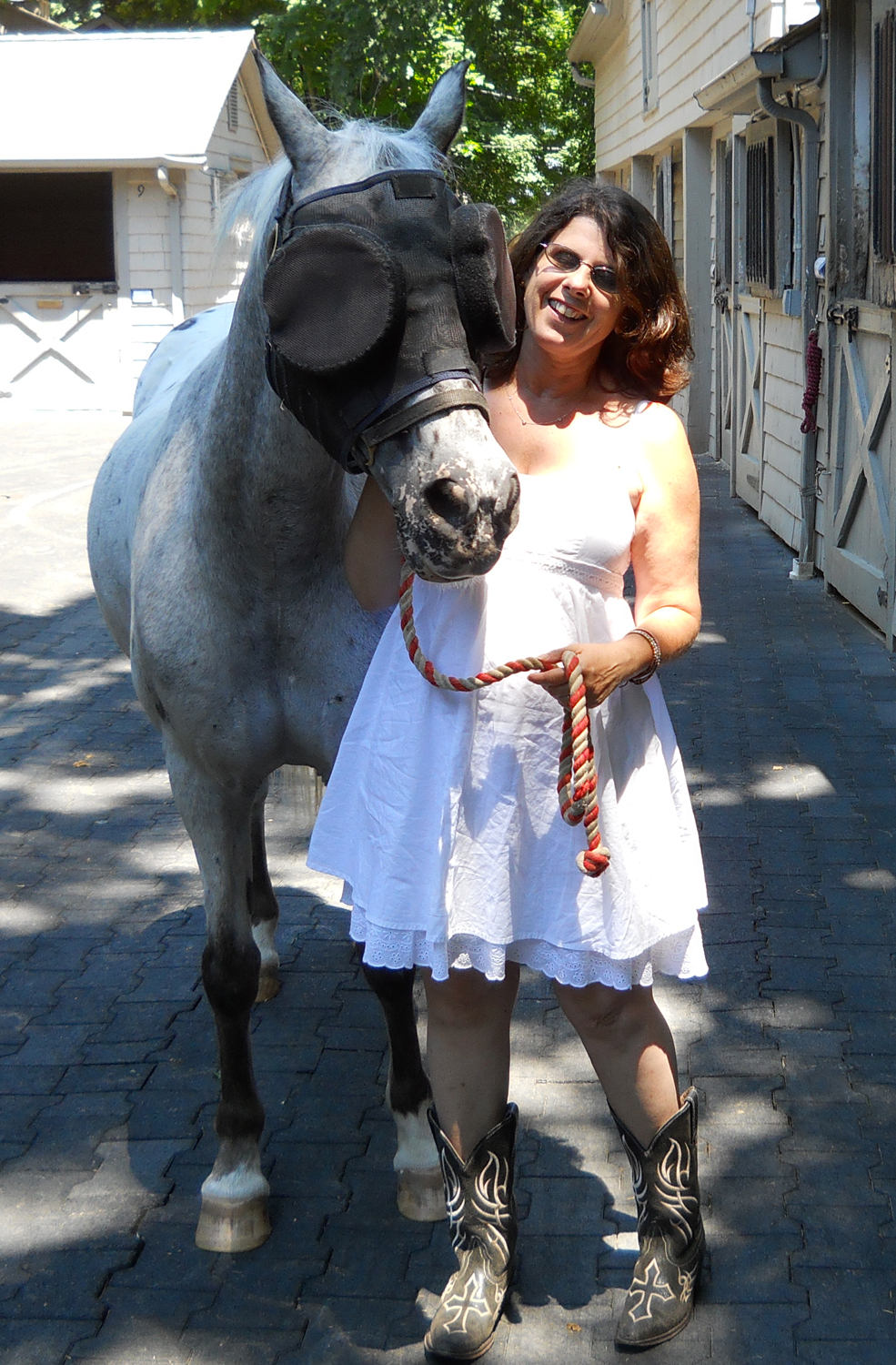 Dear people at Guardian,

Thank you so much for your eye saving product. My Appaloosa Pony cut his eye and the injury became ulcerated and then turned into uveitis and the prognosis was not great. He was prescribed by the vet a great deal of medications which had to be applied round the clock. the manager of the lay up where he is being treated suggested I purchase one of your masks which she had first seen used with great success when she worked at the Cornell Equine Veterinary Hospital. the mask has made all the difference in our lives and we are soon going to return to riding and all our usual activities....but never without the mask on. I can tell you, he loves wearing it, too meanwhile use my testimonial or anything you like, I am happy, thrilled, in fact, to help promote your product because I think you guys are GENIUSES
Also thank the talented Kate Mcphail who told me to order your mask. She is a wonderful, caring, amazing young woman who knows so much about horses. she is the owner/manager of Takoda farm, a lay up facility in Bedford, New York.

btw, I think my pony looks ADORABLE in the mask. I am a lifelong fan, count on it!
Update: 07-10-2011
This is me and Buttons, Buttons modeling his new Guardian mask, a therapeutic, eye-saving mask that acts as super sunglasses to block 95% UV rays. This mask was recommended to me by Kate MacPhail at Takota Farm, where Buttons is recovering from a serious cut on his eye which turned into uveitis. He will wear this mask forever and I'm grateful for it; I think he looks quite handsome! He wears it whenever he's out and we've already taken a trail ride wearing it over his bridle. Bodacious, beautiful little bugger he is; after weeks of medical attention, Buttons is back to his spunky self, and feeling great. I totally recommend this mask; it is an eye-saver.

Thank you.
Your grateful fan
Eve Marx
---
Awesome article with Eve and Buttons!
Local Newspaper, NY -
August 2011
Article by Jill Murphy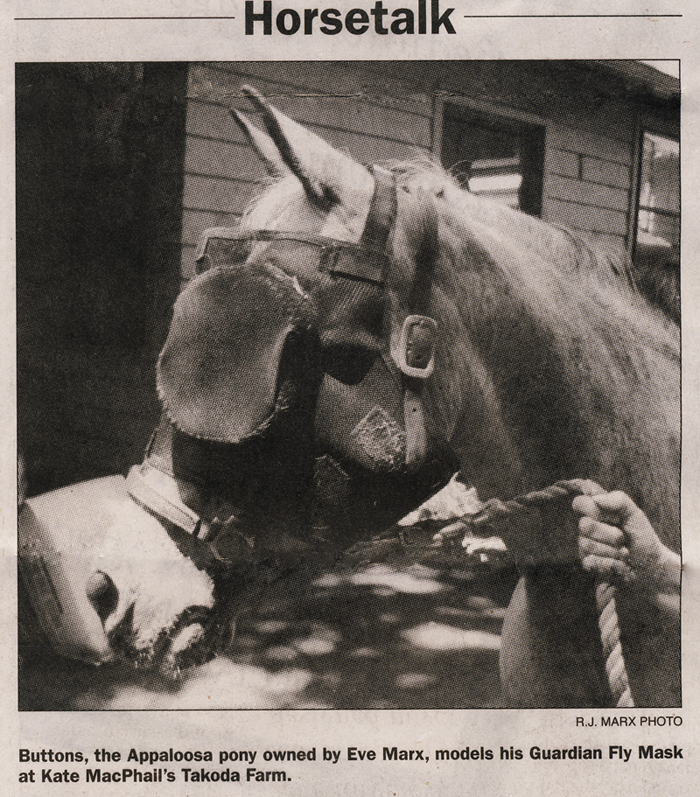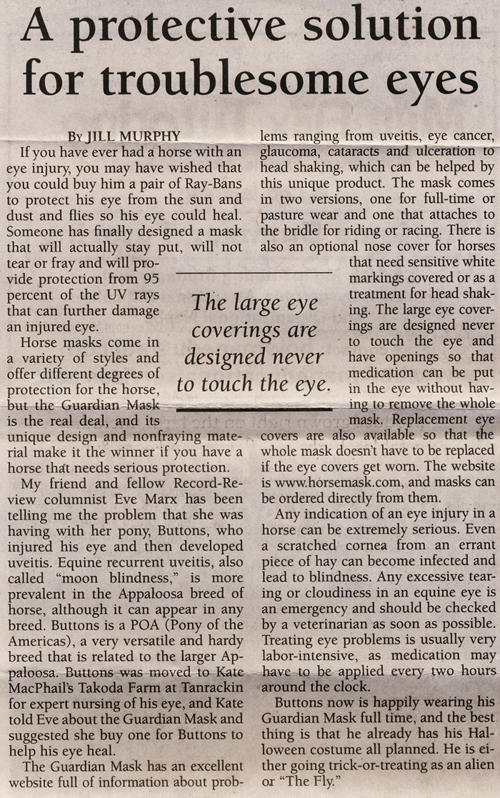 Interview with Eve Marx & her horse Buttons!
---
Thank you for the wonderful news about your pony! We are delighted to hear that Buttons is recovering and has benefited from the mask. We are so pleased and happy for you and your boy, thank you so much for sharing the wonderful news with us, we really appreciate it and also appreciate your telling us. We would also like to give a special "thank you" to Kate McPhail for recommending us!
---
Update 03-13-2014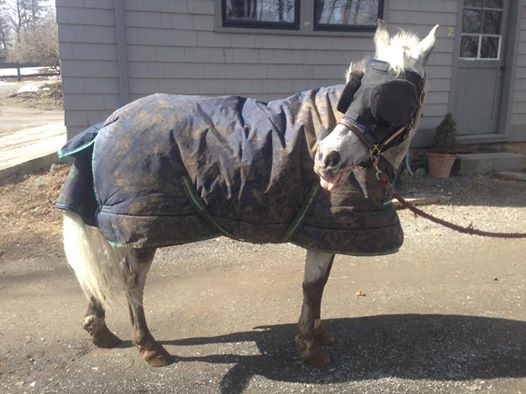 Dear Guardian Horse Mask people,
A friend took this picture of my pony Buttons at the barn he's wearing your mask, which he wears every time he is turned out winter/summer/spring/fall/sun/gloom....every time he goes out, the mask goes on. He's had uveitis and bad for several years, but your mask has kept him out of trouble, knock on wood, for over 2 years. Buttons is 32 years old.
Hope you enjoy the pic! We wouldn't be here without your help. They are a total lifesaver!
---
Buttons looks great with his Winter garb on and sporting his Guardian Mask! Congratulations on the 2 year stretch, and thank you so much for the support. We are so happy Buttons is comfy and doing well!
Guardian Mask