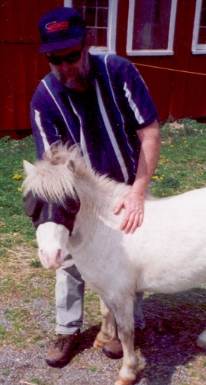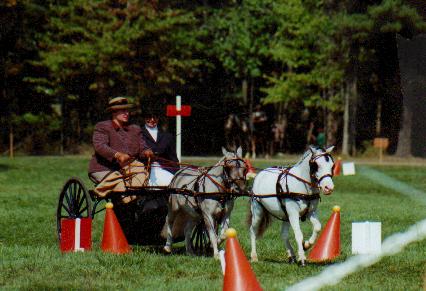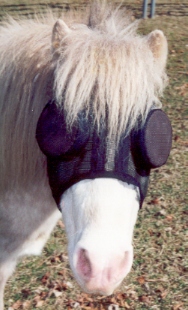 05-30-01
Dear Sid,
This letter comes with many thanks from us and our little horse Blue-eyed Bandit. Bandit is a pink skinned mini horse and as many blue-eyed equines do, Bandit had a problem with light. He was always a red eyed irritated mess. We coped best we could until last Winter when a black fleshy growth appeared in the margin on his eyelid. In a panic and with a "take charge" attitude, my husband hit the internet searching for answers.
The local Vet advised us to have the tiny spot removed, which we did. Simultaneously we put in a call to Guardian Mask looking for help. Your wonderful product and your personal guidance has put Bandit on the right track. He loves his mask! It must make him feel better because he asks for it to be put on each morning by showing up promptly when I pick up the mask before turning him out.
His eye healed beautifully from the surgery. All of the Vets were impressed with the quality. They just reminded me to keep it clean, and each evening I gently rinse it in cold water and occasionally use a little baby shampoo followed by ample rinsing. Bandit's blue eyes are healthy again without constant applications of steroids or antibiotics and the teary secretions are only found in the morning because he didn't wear his mask to bed!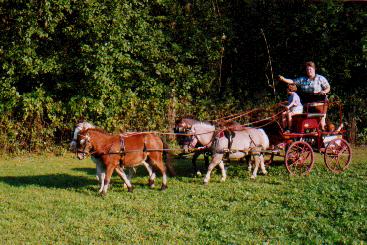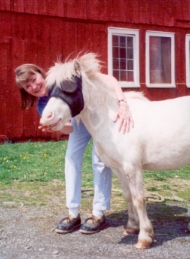 The combination of protection from UV light and flying dust have done him a world of good. Thank you for such a wonderful product and for your time and concern. Enclosed is my order for a second mask so that Bandit can wear one to bed. Every blue-eyed horse should own two Guardian Masks!
Sincerely,
Elaine T. Geyu-Mann
New Jersey
---
Thank you Elaine for the pictures of Bandit in action as well as for sharing your experience. We are pleased your little blue-eyed mini is doing so well using Guardian Mask!
Guardian Mask