My horse Chester "The Bug" has ERU. I ride barrels and poles in rodeos. He was unable to compete while he was in training to learn how to run with his new mask. I have been working with him since September of 2011 and we have clicked finally. At my last rodeo we ran 18 seconds on barrels. Not the best of time, but getting better. This is a picture of Chester "The Bug" with his mask on running barrels. We get laughs and plenty of looks, but I don't care. When they announce his name we have changed it to a nick name "The Bug".
Thanks
Chyanne Martin
Thorsby, Alabama
---
Hi Chyanne,
You guys are really moving! It goes to show you that hard work and dedication do pay off. You and Chester look terrific out there, keep up the great work! Thank you for sharing with us all, we LOVE the action shot!
Guardian Mask
---
Update 11-27-2011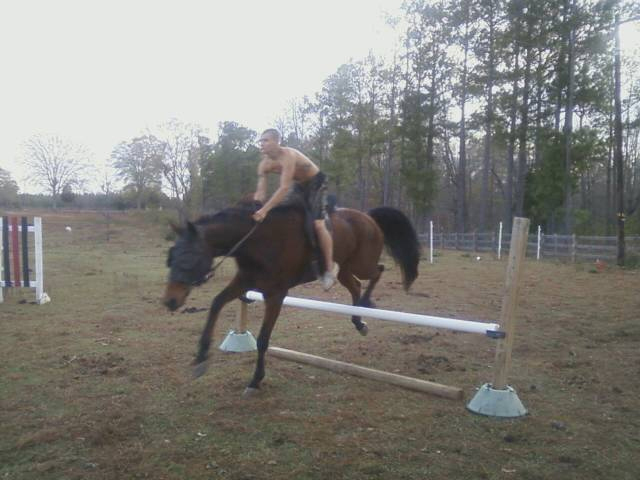 We have had issues with my daughters quarter horse for the last 10 years. We have have been dealing with eye issues, rearing, and gate. He is one of my daughters rodeo horses. We would not have any trouble with him riding in night rodeos, but the daytime was a major issue. Some arenas we would just not take him because we knew that there would be a fight and head shaking.

We decided to take him to our local trainer who also works at a equine vets office. The trainer had him looked at and we would told he had ERU. She medicated him, but it was taking long to heal. This was a bad inflammation. The trainer recommended the "Guardian Mask".

Within three days his eye was healing faster and his attitude changed. He wears it all the time except when in the stall. I am attaching a photo of him learning to work with the mask on. Just knowing the problem and being able to fix has helped my daughter and her horse.

Chyanne Martin
Thorsby, AL

---
---
This is wonderful news and we really appreciate your sharing! We would really appreciate if you could thank your trainer for us too! We're so happy that your daughter is now able to enjoy her horse again like it should be!
Guardian Mask