Navigation Menu
---
We strongly recommended reading each and every page of the compiled information on our website.
The information we have provided will help you understand your horses needs as well as understand our products.
Our goal is to help save horses lives.
---
This product is proudly made in the USA
---

---
Carol and her horse "Lord Byron" 03-21-01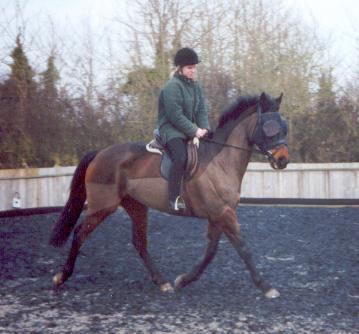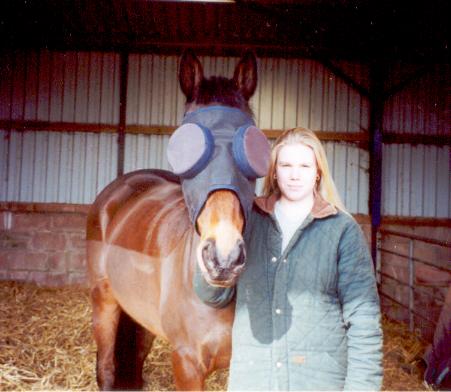 03-21-01

Dear Mr. Eby,

Please find enclosed two photos of "Lord Byron" wearing one of your masks. One taken in his stable and one where I am riding him in the ménage. Byron is an 11 year old Thoroughbred gelding, I have had him since he was just 5 years old. I am most pleased with the fit of the mask and there was no problem with fitting the bridal over the mask. Byron has accepted wearing the mask most readily.

He competes in dressage comps throughout the year and also ridden hunter classes. He suffers from Uveitis and therefore this mask will protect his eyes from the sun.

Yours Sincerely,

Carol Houston
Sunnyridge Farm
Dorset England
---
Thank you Carol for sharing your images and the update on Lord Byron!
Guardian Mask