Amy & her horse "Stormy" - 04-25-12 + 01-31-2017 Update!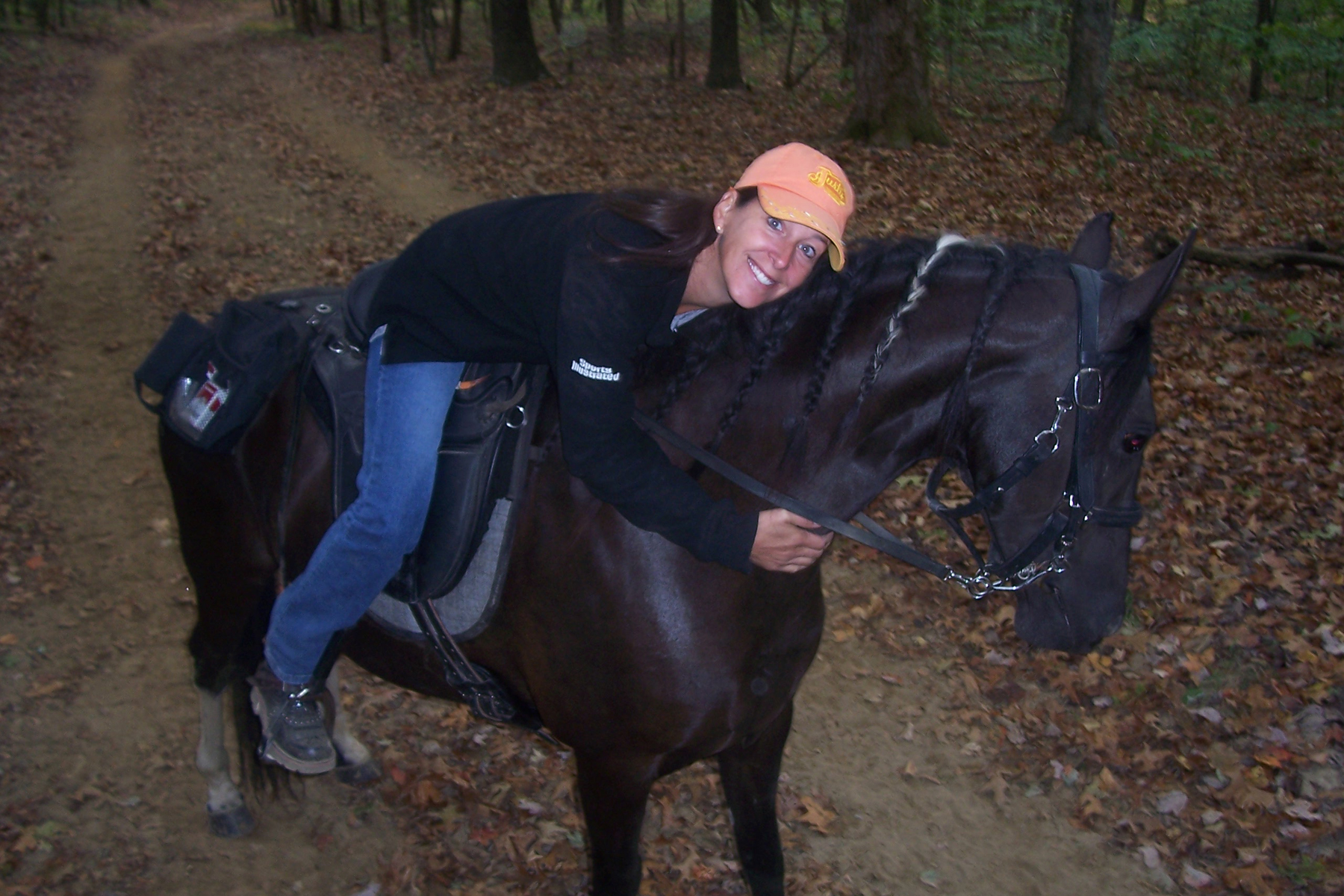 Dear Guardian Mask

I wanted to let you know how pleased I am with your masks. My Tennessee (Spotted) Walker always had a runny eye and would spook, since he was a baby. He is 9 years old this month. After a minor flare up of the eye and 1 major flare up he was diagnosed with Uveitis. The Vet advised me that he had lost a little eyesight and told me that each time it flared up, the more he would lose sight. I tried a few things and then I found the Guardian Mask. I am confident that your mask has saved his eyesight. He wears it every time he is outside during the day. He wears a regular fly mask at night or in his stall. He is so accustomed to wearing this mask that he will lower his head and wait for you to put it on.

The spookiness is gone! He hasn't had a flare up in over a year. (The last one he had.....I actually tried to give him a break from the mask........that evening he had another flare up!) That tells me that the mask works wonders!!! He will never be without it during daylight again! (and he gets aspirin during the high pollen months as this seems to be the major cause of his issues) I just ordered replacement eye shades to be sure there is always a set on hand. This mask is well worth the cost and it has held up wonderfully, for a young gelding, that is very playful.

He is the best horse. We used to show, but we both have so much more fun out on the trails. I have included a few photos of Stormy and myself. The one with him wearing the mask is quite funny.........he looks like he is wearing a gas mask........he not only has to wear the mask but he also has a grazing muzzle or he would be 2000 pounds. LOL

Thanks so much!

Amy & Stormy- Indiana
Update 01-31-2017
Dear Guardian Mask,
Today I had to order a new mask. Most people wouldn't be excited about having to do so, BUT….the last time I ordered one of your masks was February of 2013. That is almost 4 years ago.
The reason I am writing is to tell you (and others) how durable these masks are. He uses this mask EVERY day. It helps with the sun, wind, dirt, debris & bugs. He was diagnosed with ERU in 2010. It unfortunately took me 3 years to find this website. He hasn't has a major flare up (or any flare up of any significance) since he has been wearing your mask.
And the best part……………He didn't wear the mask out, but he lost it in the pasture and I haven't been able to find it. He very rarely gets it off, but when he does, I know it is because he has friends in the pasture and I am sure they help him.
J If I put it under his grazing muzzle then he is all set and it always stays on. Of course, there are times when it gets put on top of his muzzle so it is easier for another horse to help him take it off.
Luckily he has a backup. As he isn't allowed outside without it unless we are riding (and that is only sometimes). So I have just ordered his backup. Thanks for your help and it would seem that I won't need to order a new one for another 4 or 5 years, unless his pasture mates get a hold of it again.
J Your masks are built to last!
Thanks, Amy & Stormy- Indiana
---
Hi Amy! Wow, we're just thrilled Stormy is doing so well with the mask! And we're delighted that he asks for the mask to be put on, that is so awesome! Thank you so much for sharing your experience and that of Stormy, he sure is looking good, and we love the picture of you two together! Keep up the great work with Stormy, he is very lucky to have you and his Guardian Mask!
Guardian Mask
Thank you once more for the wonderful update. Its always great to hear that a horse is doing well with daily use and getting a nice long stretch of use. We are also very proud of you for being so diligent with treatment by putting it on your horse every day, that is key in keeping it under control.

Thank you Amy for the update and fabulous news!
Guardian Mask