Navigation Menu
---
We strongly recommended reading each and every page of the compiled information on our website.
The information we have provided will help you understand your horses needs as well as understand our products.
Our goal is to help save horses lives.
---
This product is proudly made in the USA
---

---
Amanda and her horse "Cash" 03-13-10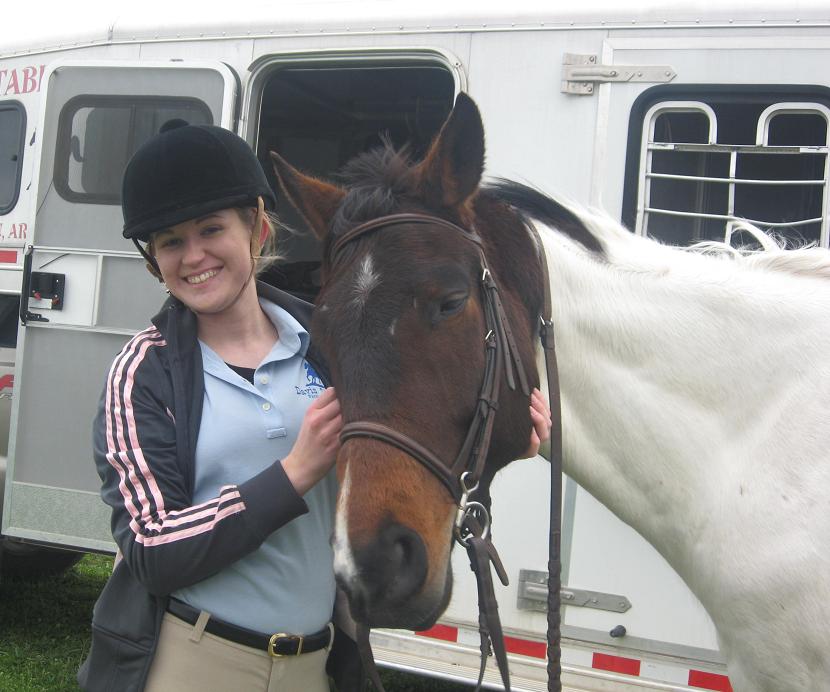 Dear Guardian Mask,
I want to let you know how pleased I am with your product! In November of 2008, when we purchased Cash we were none-the-wiser of his headshaking condition. As spring approached, my instructor and I began to notice a dramatic increase in Cash's irritation concerning bugs, sudden movement, and flashes of light. Eventually, his headshaking became so severe, it was unsafe to ride him. Befuddled, we addressed both physical and behavioral issues, but were unable to find the cause of Cash's discomfort. At a loss, I shared my conundrum online and was led to Equine Headshaking Syndrome. After medicating Cash with Cyproheptadine (with no results), I began to entertain the possibility of retiring him. Soon after, however, my instructor discovered the Guardian Mask.

The whole process was smooth and easy; I even received a phone call to ensure that I had ordered everything correctly, and were more than happy to share more information on the disorder. With the Guardian Mask, Cash is so much more comfortable. He is much less nervous, and that makes our rides together much more pleasant and productive. Plus, we are able to provide the little girls at our barn with a few giggles - they've taken to calling him a "bug." We are so pleased with the Guardian Mask. Thank you for this wonderful product!
-Amanda and Cash (Arkansas)
---
Hi Amanda,
Thank you for sharing your experience with Cash, we're so pleased that the mask helped him and we're glad the girls giggle too :-) Also thank your instructor for the support!
Guardian Mask